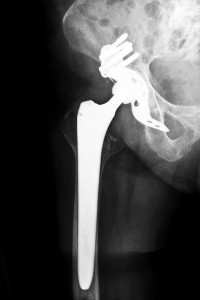 Patients have begun filing hip implant lawsuits throughout the country as manufacturers have recalled many metal-on-metal implants since 2008. Some of the hip implants that have been pulled from the market over the past few years include:
Biomet M2a Magnum
Depuy ASR XL Acetabular System
Smith & Nephew R3 Metal Liners of the R3 Acetabular System
Stryker Rejuvenate and ABG II
Wright Medical Technology Conserve and Profemur Z Stem
Zimmer Durom Acetabular Component
Biomet reached a $56 million settlement in some hip implant lawsuits filed against them by patients who suffered injury after their metal-on-metal implant either failed or caused them to suffer metal poisoning when fragments created when the ball and joint rubbed together entered their bloodstream. Patients in Georgia and other states whose hips were replaced more than 180 days after implantation were given a base award of $200,000. An additional $50 million was placed in escrow to cover costs incurred by future hip implant patients whose devices had not yet failed.
Many hip implant lawsuits have been filed in the United States District Court of Georgia, with patients claiming injuries that include failed hip devices, that have led to chronic pain and suffering. As recently as February 2014, a patient filed a lawsuit in the Georgia court claiming that her hip replacement failed not long after it was implanted, leading her to suffer additional injuries. Court documents filed in one case in federal court show that the patient had metal debris in her hip, which clearly showed on x-rays.
Because the metal ball and cup rub against each other during normal movement, metal fragments can be released from the metal-on-metal hip implants. This can cause the metal fragments to be released into the bloodstream and travel to other parts of the body. Some of the fragments removed have been between one and two centimeters in size, large enough to cause significant damage to other organs. In addition, patients who may have metal sensitivity could develop serious illnesses due to the metal debris in their bloodstream. This has led many patients in Georgia and other states to file hip implant lawsuits in Georgia and other states.
In addition to the potential for metal fragments to enter the bloodstream, many of the hip implant lawsuits claim that the metal-on-metal devices have a higher failure rate than other types of replacements. This has led a significant number of patients having to endure additional surgeries. In some cases, the failure of the implant caused damage to the thighbone, leaving the patient in chronic pain due to the damage. For those patients, hip implant lawsuits may be necessary in order to help them recover from additional medical treatments that may be necessary.
Have You Considered Georgia Hip Implant Lawsuits?
If you or a loved one has suffered after the implantation of a hip replacement device, such as device failure, chronic pain or metal poisoning, or if a loved one has died of complications related to a hip replacement device, contact Attorney Group for Georgia to learn whether you qualify for a hip replacement lawsuit. We can help answer your questions in a free consultation, and can connect you with an affiliated attorney if you decide to pursue a claim. Contact us today to learn more.