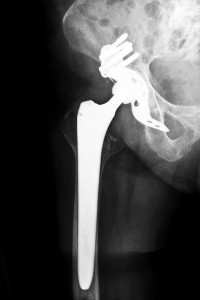 If you suffered injury after receiving an Apex ARC hip implant, you may be considering a Georgia Apex ARC Hip Replacement System Lawsuit. It's important to learn the facts of a recent lawsuit a Florida woman filed against OMNI Life Science, a subsidiary of Orthopaedic Synergy, in Massachusetts.
The Apex ARC Hip Implant
In February 2012, OMNI Life Science launched its ARC hip replacement system, targeting patients who suffer from hip problems. The ARC product is a titanium stem fitted to a ball composed of chromium and cobalt. This metal-on-metal design is similar to other hip systems sold by DePuy, Stryker, and other manufacturers, recently tied up in product liability litigation. An OMNI Georgia Apex ARC Hip Replacement System Lawsuit targets the product maker's negligence, alleging a patient's health effects and unnecessary pain and suffering were due to product defects.
An artificial hip from the OMNI ARC replacement system offers a patient a ball-and-joint design with customizable sizes and angles, enabling the surgeon to approximate the normal range of motion. In a successful replacement, a patient experiences advantages similar to a typical hip, adjusting for age and other physical conditions.
According to a recent Florida woman's Apex ARC hip replacement system lawsuit filed in Massachusetts, the plaintiff's doctor stated that her Apex ARC hip system produced a fibrotic and necrotic pseudo tumor and accumulation of toxic amounts of titanium, chromium, and cobalt. Metal buildup can be fatal in some patients. The patient's complaint also alleged OMNI Life Science ignored design flaws in its product, leading to premature failure of her artificial hip.
Georgia Apex ARC Hip Replacement System Lawsuit
In considering whether to file a Georgia Apex ARC Hip Replacement System Lawsuit, bear in mind this product is one of numerous metal-on-metal systems under public scrutiny. Metal-on-metal technology has been previously claimed to produce ill effects in patients, some of which are pain, toxic metal buildup, future surgeries and procedures, bone breakdown, loosening or dislocation of the hip joint, and inflammation. These effects can occur through no fault of patients. Product manufacturers should be held liable for compensation for the effects of their products on consumers.
Contact Us Today for More Information
It's important for consumers to seek experienced representation before attempting a Georgia Apex ARC Hip Replacement System Lawsuit. The ill effects of an ARC hip system could be grounds for a lawsuit. Contact Attorney Group for Georgia today and get answers to your questions about metal-on-metal hip replacement lawsuits. We can help answer your questions and connect you with an experienced attorney, all at no cost to you. Contact us today.