After the Biomet M2A hip implant was introduced into the medical community, many people were under the impression that this would be a life-saving measure for individuals with hip problems. Unfortunately, thousands of people of all ages have suffered from severe injuries that have been connected to the Biomet M2A hip implant device. The device has done anything but allow individuals to return to their normal careers and carry on with their daily activities. Instead, it has caused excessive pain and the need for additional corrective surgeries. If you have suffered from an injury that is related to a Biomet M2A hip implant device, you should make the choice to move forward by getting in touch with Attorney Group for Alabama. An attorney affiliated with Attorney Group for Alabama can advise you of your legal rights and help steer you in the right direction towards filing Alabama Biomet hip lawsuits.
A Short History of the Biomet M2A Hip Implant
The Biomet M2A hip implant device has caused a lot of controversy in the medical community. The device was originally created to help individuals regain motion in the hip joint area, but it has caused more harm than good to patients. Doctors willingly used the device in their hip replacement surgeries, because even they were unaware that this device was defective in design and could cause severe harm. Doctors were never made fully aware of the risks that were associated with this hip implant. Until the FDA issued a recall of the hip implant in 2001, many people were unaware that it could cause nerve damage and fractures of bones in the hip area. When people began to report injuries associated with this hip implant, it became apparent that class action lawsuits or multi-district litigation procedures would be necessary to ensure justice in the cases of patients. Lawyers then filed a request for multi-district litigation in court, and a judge approved this request. In 2012, a judge in Indiana ordered that plaintiffs could become part of multi-district litigation concerning the Biomet M2A hip implant. Kentucky Biomet hip lawsuits are a large part of this process.
There was even an incident in which Biomet, the manufacturer, allegedly bribed doctors in China and other countries to use the device to treat their patients. The United States Securities and Exchange Commission filed a lawsuit against Biomet and was successful in pressing criminal charges and in receiving civil damages in the amount of $22 million. It is clear that the manufacturer of the Biomet M2A hip implant has engaged in behavior that has not been in the best interests of patients. In many cases, patients and doctors have been mislead about the capabilities and risks associated with the Biomet M2A hip implant device.
Injuries Caused by the Biomet M2A Hip Implant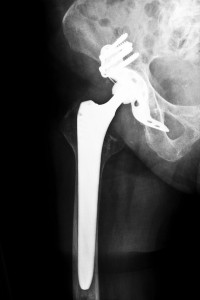 There are many Alabama Biomet hip lawsuits that have been filed as a result of the injuries that patients have suffered from the hip implant. These injuries include perforation of muscle tissue and nerve damage. Patients are unable to walk or exercise after receiving this implant. They may experience fractured bones or a greater possibility that they will experience a broken bone. Some people also experience extreme swelling around the hip joint area. They experience such excessive pain that they are no longer able to do the activities that they once enjoyed. A person may no longer be able to perform physical labor that is required for his or her job. Due to the metal-on-metal nature of the implant, grinding occurs during movement, causing bits of metal to dislodge and be absorbed into the bloodstream, causing "metallosis," or metal toxicity.
Damages Awarded in Alabama Biomet Hip Lawsuits
If you have suffered injuries from this hip implant device, then you may be eligible for compensatory damages. Compensatory damages are intended to cover the past, present, and future expenses that are associated with your injuries. These expenses could include the cost of additional operations needed, prescription drugs, appointment fees, and other costs for medical equipment. You may also receive damages for the pain and suffering that you have experienced. It is also possible for you to receive damages for future lost wages or present lost wages. If you have had to miss work due to injuries after receiving this implant, you have the right to receive compensation for these injuries.
Hire an Attorney Group for Alabama
Since the statute of limitations differs from case to case, contacting Attorney Group for Alabama as soon as possible is in your best interest, lest your window of opportunity close. Contact us today for a free consultation, and see whether or not you can add your voice to the Alabama Biomet hip lawsuits.