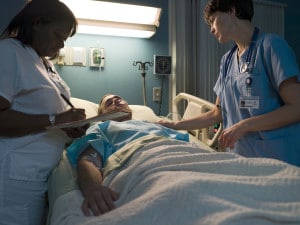 In March 2012, GranuFlo, a chemical used with kidney dialysis treatments, was recalled for possibly contributing to heart attacks and other heart-related problems. Louisiana GranuFlo Lawsuits, as well as those elsewhere in the United States, have followed. The Louisiana GranuFlo Lawsuits claim that the chemical, which is marketed by Fresenius Medical Care (the world's largest dialysis group), contributes extra bicarbonate to the human body. The result, explained in the Louisiana GranuFlo Lawsuits, is that the chemical causes an overdose of bicarbonate, which can lead to heart attacks or other problems. The lawsuits list these possible side effects from the chemical:
low blood pressure
low oxygen blood levels
low potassium blood levels
too much carbon dioxide in the blood
irregular heartbeat (cardiac arrhythmia)
heart attack and/or death
In addition to the Louisiana GranuFlo Lawsuits, other lawsuits have been issued in seven states.
A Louisiana man underwent kidney dialysis in November 2011 with treatments containing GranuFlo. Heart failure occurred in February 2012 and again in July, causing his death. His daughter brought a lawsuit against the dialysis group for causing her father's death as a result of GranuFlo treatment.
GranuFlo has been marketed by Fresenius in 1994 and again in 2007. The Louisiana GranuFlo Lawsuits state that the company was able to avoid FDA approval of the chemical, claiming that it was much the same as other kidney dialysis treatments. In this way, the company did not have to go through critical clinical trials. Such trials may have uncovered possible heart problems.
A heart failure lawsuit attorney reported that Fresenius had completed a study in 2010 concerning GranuFlo and NaturaLyte, also a hemodialysis chemical. The study apparently found that side effects were six times likely to occur with either chemical. Fresenius did send an internal memo in November 2011 cautioning its facilities not to use the two chemicals if at all possible. The first recall went out in early 2012 and a complete recall followed in June.
Louisiana GranuFlo Lawsuits against the chemical firm state that the company did not warn users of possible risks. There are also charges of fraud and deceit, defective design, and negligent misrepresentation in the way the recalls were mishandled.
If you or a loved one has had a heart attack or if a loved one has died as result of being treated with GranuFlo, legal action may be your way to find rightful compensation. Contact Attorney Group for Louisiana to be put in touch with a Louisiana wrongful death or personal injury attorney. You may be eligible to file a complaint against the manufacturer of these harmful chemicals. Your attorney can help you to possibly recover money for medical bills and lost wages as well as pain and suffering. Let us determine if you have the grounds to file a GranuFlo lawsuit. Call the Attorney Group for Louisiana today for a free consultation.