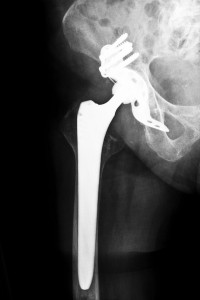 From Bloomberg News:
Johnson & Johnson (JNJ)'s DePuy unit defectively designed a metal-on-metal hip implant and was negligent, a California jury decided in the first of 10,750 lawsuits over the device to go to trial.

The Los Angeles jury awarded $8.3 million in compensatory damages to Loren "Bill" Kransky, a retired prison guard from Montana, after finding that the design of the ASR XL hip replacement caused his injuries. Jurors also found DePuy properly warned of the risks and didn't owe punitive damages to punish the company.
Important points from the verdict, for both recipients of DePuy ASR XL hip replacements, and recipients of metal-on-metal hip replacements in general, are as follows:
Although the jury did not award punitive damages against Johnson & Johnson, despite evidence that DePuy failed to test the device adequately before selling it in the U.S. in 2005, buried surgeon complaints of mounting failures, and studied a redesign of the ASR before scrapping that effort in 2008, the jury did award Mr. Kransky $338,136 for medical expenses and $8 million for his pain and suffering.
 According to Bloomberg, attorneys representing plaintiffs in DePuy hip replacement cases believe they have a good chance of obtaining punitive damages awards against DePuy in subsequent trials.  In Mr. Kransky's case, the jury was asked to award $179 million in punitive damages, and at least one juror was in favor of awarding punitive damages.
In reaching its verdict, the jury found that the ASR XL was defectively designed.  In many states, including Arkansas, a defectively designed product makes the manufacturer of that product strictly liable for any damages caused by that product.
The jury awarded damages to Mr. Kransky despite evidence, and arguments from lawyers for DePuy, that the health problems he attributed to his defective replacement hip were the result of "diabetes, cancer, kidney disease, heart disease, vascular disease and his many other health problems."
The Bloomberg article quotes University of Michigan business professor Erik Gordon as stating that the verdict will set a starting price for settlement discussions for other recipients of DePuy ASR XL hips and, presumably, other metal-on-metal replacement hips, as well.