Biomet M2A Hip Implant Device
Because of the high frequency of problems associated with this device, Biomet hip lawsuits are increasing in number every day. If you or someone you know has suffered complications after receiving a Biomet hip implant, you can contact Attorney Group to be informed of your legal options and what to do next
Anyone who's had hip implant surgery is well acquainted with the pain and seemingly-endless healing process involved once it's completed. To later suffer further pain and discomfort because a defective implant was used can be unnerving and altogether disheartening. Many recipients of the Biomet M2A hip implant device appear to be in this predicament.
Biomet Hip Implant Complications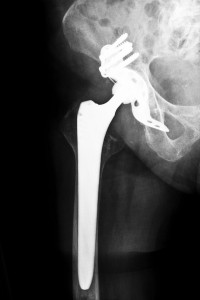 Most, if not all, of the complications stemming from the Biomet M2A implant involve the types of materials used to make the device. Unlike other implant models that use a combination of plastic, metal, and ceramic materials, the Biomet device is made completely of metal. In effect, this use of solely metal components increases your chances of contracting a condition known as "metallosis."
Metallosis develops as frictions between the parts that make up the Biomet implant disperse metal ions around the implanted joint. When this happens, metal toxicity can quickly develop as surrounding tissue materials and bone become contaminated with metal materials. In an attempt to fight off this condition, the body's immune system attacks the area, which results in pronounced inflammation.
Over time, these developments can cause a range of problems in the hip, some of which include:
Problems walking and standing
Severe pain
Swelling
Rash
In addition to these symptoms, the presence of metal ions in the hip region can cause surrounding tissue and bone materials to deteriorate. As this occurs, the implant itself may become dislocated. For this reason, many recipients of the Biomet hip implant have had to undergo hip revision surgeries to replace the implant altogether.
Biomet Hip Implant Recall
If you've been experiencing problems after receiving a Biomet M2A implant, you're not alone. The Food & Drug Administration (FDA) reports having received over 450 complaints of adverse events caused by this device as of May 2012. "Adverse events" have taken the form of implant dislocation, loosening, and device failure. The unusually large number of complaints placed suggests the likelihood of an earlier fail rate for the device than the company advertises.
Biomet advertises a 15 year life-expectancy for the M2A implant model. In actuality, these devices were shown to fail within the first five years for 6% of people who received the implant. When compared with ceramic and plastic-made implant models, ceramic devices only showed a 2.3% failure rate within the first five years while plastic devices showed only a 1.7% fail rate.
As far back as 2001, the FDA issued a recall of the Biomet device due to ongoing reports of problems associated with the implant. In spite of the public announcement made by the FDA, Biomet manufacturers continued to market the device as a safe, effective implant option. Biomet marketing campaigns even went so far as to say the Biomet model was superior to implants being sold by the company's competitors.
Biomet Hip Lawsuits
An April 2013 lawsuit filed against Biomet was made by a New York woman claiming the manufacturer misrepresented the Biomet M2A hip implant model to both the woman and to her treating physician. Biomet allegedly had knowledge of more than 100 reports of problems with the device, but made no mention of this in their marketing claims. As it stands, the woman in the case is suing for pain and suffering, emotional distress, and the possibility of permanent injuries resulting from the implant device.
As of 2013, Biomet hip lawsuits have reached the point where a federal court has consolidated these cases into a mass litigation suit to be handled by the Northern District Court of Indiana, home state of the Biomet headquarters. In light of Biomet's alleged foreknowledge of problems with the M2A implant model and their continued attempts to market and sell the device as a safe treatment option, recipients of Biomet M2A hip implants may bring claims to be compensated for any damages caused by the device.
Attorney Group
Defective implant devices can inflict years of pain and suffering, not to mention the high likelihood of revision surgeries and endless medical costs. If you're currently experiencing problems with the Biomet M2A Magnum Hip system, it's imperative you seek legal counsel to protect your rights.
Successful litigants in Biomet hip lawsuits stand to recoup substantial awards in the form of:
Current and future medical costs
Pain and suffering
Lost wages
Attorney Group works with attorneys who have experience in working with medical product device claims. Those lawyers affiliated with our group continue to work on the behalf of those affected by Biomet implant complications. Contact us today for a free evaluation of your case.