Layoffs and Lawsuits for Biomet
Biomet has recently been a controversial topic among consumers and the medical community for manufacturing and selling allegedly defective hip and knee replacement systems. While the company is facing lawsuits from plaintiffs and Biomet hip replacement lawyers, Biomet has also made the decision to downsize their facilities overseas and has begun making the necessary changes to fight against competitors in a seemingly unstable economy.
Recent Layoffs in Switzerland
Biomet has decided to shut the doors on a 230-employee manufacturing facility located in Switzerland. The conglomerate has cited a significant dip in the prices of their medical devices and ongoing and consistent economic challenges as the reasons why the plant will no longer be in operation. Biomet plans to shift the operations formerly held at this facility to other locations around the world.
Experts are suggesting that the reason for this layoff relates to the company's lack of sales and the increasing number of lawsuits filed by Biomet hip replacement lawyers after placing allegedly defective hip and knee implant systems on the public market. In fact, while Biomet has not yet issued a recall for its M2a-Magnum system, the company is in legal hot water and facing lawsuits from Biomet hip replacement lawyers on behalf of over 500 plaintiffs in the United States alone.
What are Biomet Hip Implants?
One of the most well-known of Biomet's devices, the M2a-Magnum hip system, is a metal-on-metal replacement system that physicians have implanted in thousands of patients across the country. Although the device was originally promoted for younger and more active patients, those who received the hip implant are reporting complications that suggest the device may be prone to failure within the first year years after the initial implant. The Biomet M2a-Magnum was first approved for use by the U.S. Food and Drug Administration (FDA) in the widely criticized and questionable 510(k) process that allowed a device to be placed on the market without sufficient testing if the manufacturer could prove that the implant was substantially equivalent to a device already available.
Biomet was faced with issues pertaining to its implants since September 2001, although the M2a-Magnum implant was not approved until 2004; the FDA acknowledged that Biomet and other medical device manufacturers were considering recalling hip implants due to complications with a component that was prone to easy fractures. Between 2000 and 2011, the FDA received over 17,000 reports of adverse events stemming from metal-on-metal hip implants, leading many patients to file lawsuits with the help of Biomet hip replacement lawyers.
Is Biomet Safe?
While a traditional hip implant consists of plastic and metal components, the Biomet Magnum features three all-metal components – a metal acetabulum cup, a metal taper insert and a metal femoral head. Unfortunately, because the system is all metal, the parts have a tendency to rub against one another and scrape microscopic shavings into the blood stream or hip joint, causing metal poisoning, metallosis or metal toxicity. Biomet hip replacement lawyers and members of the medical community acknowledge that potential warning signs of further hip problems include: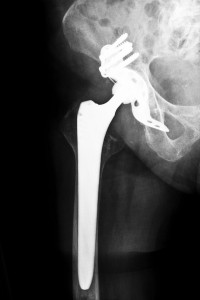 Loosening of the hip implant
Difficulty walking or standing
Unexplained tumors
Soft tissue damage
Swelling
Unexplainable hip pan
Many patients are required to undergo additional hip revision surgeries to correct the problem and have the device removed; these patients often seek compensation for these surgeries with the assistance of Biomet hip replacement lawyers. Although the implant was designed to last more than 15 years, thousands of patients have needed removal surgery due to the dislocation, loosening, wear and failure of the implant.
Contact Biomet Hip Replacement Lawyers Today
If you or someone you love were implanted with a Biomet hip replacement system and are currently suffering from adverse side effects, contact our affiliated Biomet Hip Replacement lawyers at Attorney Group to learn more about your rights. Plaintiffs are currently taking action and filing lawsuits against Biomet for injuries stemming from metal poisoning, bone fractures, swelling, difficulty walking, severe pain and tissue, muscle or nerve damage. If you are experiencing any one or more of these side effects, don't hesitate to contact experienced and knowledgeable Biomet hip replacement lawyers. We will work to determine if you have a case and whether you are eligible to pursue a claim to seek compensation for your injuries.