Attorney Group has released an overview of the first Biomet hip settlement to date. If you or someone you love has been fitted with a Biomet hip replacement and have suffered from complications such as swelling, severe pain or difficulty walking or standing, contact Attorney Group to learn more about filing your own claim and recovering compensation for your injuries through the pending Biomet hip replacement settlement.
Biomet Hip Settlement Overview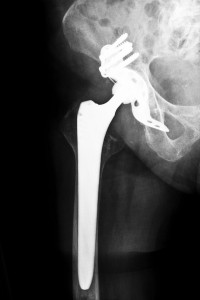 According to the most recent court documents, the first Biomet hip replacement settlement has been reached on behalf of plaintiffs who required a revision surgery due to their allegedly defective hip implants. On February 3, 2014, Biomet agreed to pay a base award of $200,000 to claimants who were fitted with the company's Magnum or M2a 38 devices and who later suffered from failure of these metal-on-metal devices. However, the Biomet hip replacement settlement states that failure must not have occurred as the result of trauma, infection or other factors.
Additionally, while there will be discounts done based on later implant cases as well as the number of years between the initial implant and revision procedure, discounts will not be done based on smoking habit, high body mass index or age. A separate docket has already been created for plaintiffs who did not require a revision procedure or have not yet had a revision surgery, as Biomet is reportedly unwilling to negotiate these claims. Ultimately, the Court retains the right to dismiss non-revision lawsuits without warning or reason.
Due to Biomet's belief that the statute of limitations for unrevised claims begins when the patient undergoes a revision surgery, the manufacturer also feels that some legitimate revision cases are time-barred based upon the date of which the patient underwent a revision procedure. The Master Biomet Hip Settlement Agreement states that cases in which the statute of limitations has run out based upon the date of the revision surgery shall be worth $20,000. In these instances, plaintiffs may consider challenging the statute of limitations rule and while claimants have the legal right to do so, it is best to seek legal counsel when making this decision.
Compensation Amounts in the Biomet Hip Replacement Settlement
The proposed Biomet hip settlement includes a mediation process for patients who have allegedly suffered sever adverse effects following revision surgeries and seek compensation in excess of the base amount. Examples of valid injuries for these enhanced awards include dislocation, re-revision and other severe complications. The settlement also permits Biomet to fight against cases where the manufacturer feels that a particular device failed for reasons other than metal-on-metal wear such as trauma or infection. Both the contested cases and the enhanced awards may be resolved through the Biomet hip replacement settlement program.
The MSA also provides a $20,000 settlement for the following cases:
Biomet devicees which failed within six months from the initial implant
Revisions of Biomet M2a devices other than the Biomet M2A Magnum and the 38
Biomet M2a devices including the Biomet M2A Magnum and the 38 which were initially implanted during a revision procedure
Devices requiring revision after 10 years from the date of the initial implant
Cases in which the plaintiff has passed away prior to the time of the Biomet hip settlement from causes unrelated to revision procedure complications
Who is Eligible for the M2A Magnum or other Biomet Hip Settlement?
In order to be eligible for the Biomet hip settlement, you must file your case on or before April 15, 2014, and you must provide a materially complete fact sheet no later than June 13, 2014. Additionally, the deadlines are divided into two groups: Group 1 consists of all cases where the completed fact sheets were served by December 31, 2013, and Group 2 includes all other cases where the completed fact sheets were served between January 1, 2014 and June 13, 2014.
Biomet is also required to notify the Plaintiffs' counsel of record by March 10, 2014 if a fact sheet that was served by December 31, 2013 is not valid. If a plaintiff falls into Group 1 and he or she receives notification that the fact sheet is deficient, he or she may be obligated to fix the deficiency no later than June 13, 2013, and the case will be moved to Group 2.
Want More Biomet Hip Settlement Information?
For more information about the Biomet hip settlement or if you have questions about your legal rights in your own situation, contact Attorney Group as soon as possible. If you feel you have a valid claim, we can review your case and help you to determine if you are eligible to recover compensation for your injuries. Do not wait until it is too late; contact Attorney Group today for your free consultation.