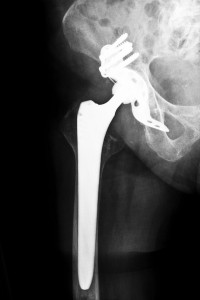 Hip replacement surgery has brought great relief over the years to those suffering with pain. However, as more surgeries have been performed problems have developed. Many of the hip replacement devices implanted have turned out to be defective and dangerous. Thousands of patients have suffered as a result of these implants from a variety of manufacturers. Patients have reported parts of the hip replacement devices coming loose within them, resulting in bones being fractured, metal deposits in surrounding tissue and in the bloodstream, extreme pain in the hips and other issues. When a patient has a recalled hip replacement device, there are some things to take into consideration.
The first thing a patient needs to do is contact their doctor. Those experiencing severe symptoms may need to be hospitalized to receive proper care, and the doctor can provide details on the recall and what medical steps can be taken next. Patients may also need to undergo another operation, called a revision surgery, to remove the defective hip replacement and replace it with one that has been found to be safe for patient use.
While this is going on, it's also a good idea to speak with an attorney. Many attorneys have experience in medical device defect issues, including medical device recalls. How much, if any, compensation a patient is entitled to depends on the severity of their condition. Lawyers working in this field can help their clients evaluate appropriate compensation for their cases. Patients suffering from a defective hip replacement may be entitled to lost wages, medical bills, pain and suffering and travel expenses incurred to fix the problem.
Hip replacement surgery is a procedure designed to alleviate suffering rather than increase it. Those who have hip replacements that have been recalled need to discuss their options with doctors and attorneys they trust, in order to receive the medical and legal help to which they are entitled.