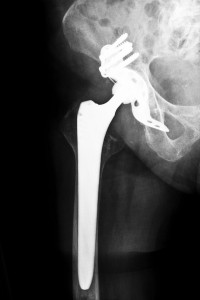 Several plaintiffs in a consolidated lawsuit against the Stryker Corporation have filed a motion to compel the company to release information about problems with Stryker hip replacement products other than the Rejuvenate system. To date, Stryker has kept this information sealed. The plaintiffs maintain that their Stryker Rejuvenate litigation has been impeded by the defendant's ongoing refusal to disclose this pertinent information.
Many of these lawsuits filed in Florida have been consolidated in Broward County Court in Fort Lauderdale, and this Stryker Rejuvenate litigation is currently in the discovery stage. Plaintiffs contend that they suffered serious adverse medical effects from their Stryker hip replacements, including metal poisoning, loosening of the device, various types of infections, bone loss, and pain and suffering.
The Stryker Rejuvenate Hip Replacement System
The Stryker Rejuvenate line was heavily marketed by the company as an innovative step in hip replacement technology when it was released in 2009. Unlike previous hip replacement models that were constructed as a single-piece stem and neck, the Rejuvenate line featured six interchangeable stems and sixteen interchangeable necks. While heralded as state-of-the-art by the company and intended to allow the hip to suit a broader range of patients, this new feature proved to be a key cause of the ongoing Stryker Rejuvenate litigation.
According to Stryker, the Rejuvenate's design made it easier for surgeons to custom fit each hip replacement to the patient's unique anatomy. The Rejuvenate line was marketed to patients as a more durable, more comfortable hip replacement that permitted a greater range of motion to better simulate normal hip function. Younger patients who hoped to maintain active lifestyles to marketed to specifically.
The Need for Stryker Rejuvenate Litigation
Within two years of the Stryker Rejuvenate line being released, reports of adverse effects from patients were already beginning to accumulate, followed closely by Stryker Rejuvenate litigation. By 2012, Stryker issued a voluntary recall. Afterwards, Stryker Rejuvenate litigation increased as hundreds of lawsuits were filed across the country by patients who claimed that Stryker knew of the potential dangers but failed to warn both patients and doctors in an attempt to keep profits high.
Most of the complaints were related to the product's interchangeable stem and neck. Over time, the mechanism that attaches the product's stem and neck allegedly begins to loosen, causing fragments of metal to chip off and enter the patient's bloodstream. This can result in metallosis, the medical term for severe metal poisoning of the blood, as well as bone loss and the formation of pseudotumors at the implant site. At the same time Stryker recalled its Rejuvenate line, the manufacturer issued another recall on its ABG II hip replacement system for similar reasons.
Seeking Legal Counsel with Attorney Group
If you or a loved one believe you were injured by your Stryker hip replacement, or if you would like more information about the Stryker Rejuvenate litigation, contact Attorney Group today. You can receive a free, no-obligation consultation to determine whether you have a claim. If you do, Attorney Group can connect you with an affiliated attorney with experience in Stryker Rejuvenate litigation. Call today to be informed of your legal options.