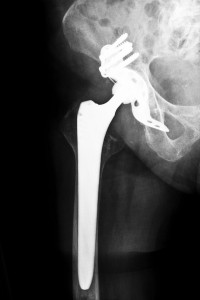 DePuy Orthopaedics, manufacturer of several types of hip replacements, is currently facing more than 5,700 metal-on-metal hip lawsuits filed on behalf of patients who received the company's Pinnacle device. Additionally, court documents indicate that the company agreed to a $2.5 billion settlement over allegations that its ASR hip replacement device caused serious complications to its recipients. Similarly, Stryker Orthopedics agreed to a settlement in December 2013 pertaining to its Rejuvenate and ABG II modular-neck hip stems. According to plaintiffs, these devices were several among many that were prone to early device failure, pain, limited mobility, swelling and other complications.
Types of Hip Replacements
There are four common types of hip replacements from which patients may choose if they are suffering from hip damage or arthritis, including:
Ceramic-on-metal implants are made of a metal acetabular cup and a ceramic femoral head. These devices may not be suitable for patients with more active lifestyles as the combination of materials may not provide the range of motion that these individuals may desire.
Ceramic-on-ceramic hip replacement devices were approved recently by the U.S. Food and Drug Administration, although they have been used since the early 1980s. These types of hip replacements feature all-ceramic components and feature a wear-resistant, smoother surface than other types of hip replacements.
Metal-on-metal types of hip replacements are similar to those made entirely out of ceramic, except that these devices are comprised of a metal ball and socket. The metals used in these implants can vary, but titanium, chromium, stainless steel and cobalt are the most commonly used materials.
Metal and plastic are similar to all-metal types of hip replacements, but these devices also include a plastic polyethylene spacer which is inserted in between the metal ball and socket components by the surgeon.
DePuy, Stryker Among Manufacturers Facing Lawsuits
Hip implant recipients throughout the U.S. may be able to file a metal-on-metal hip lawsuit against the manufacturer of the device that they received if they can prove that the implant was the cause of their injuries or complications. There are currently five well-known manufacturers of medical devices who are facing metal-on-metal hip lawsuits filed on behalf of plaintiffs claiming that they suffered from severe complications, including:
Early failure of the device
Damaged tissues and joints
Bone fractures
Discomfort, swelling and pain
Metallosis
Neurological damage
Difficulty standing or walking
Infections
Wright, Zimmer, Biomet, DePuy and Stryker have been accused of failing to adequately test and research their hip implant products prior to releasing them for public use. The companies received approval from the FDA via the agency's 510(k) process, an approval method that allowed hip replacement devices to be placed on the market if the manufacturers could show that they were similar in design and function to a device already in use.
However, certain types of hip replacements such as metal-on-metal implants have recently been linked to complications that most often result from early failure of the device. Although several types of hip replacements are intended to last for 15 to 20 years, some plaintiffs pursuing metal-on-metal hip lawsuit claims against the manufacturers allege that they suffered from early failure of the device, which reportedly caused additional complications and required them to undergo painful and complex revision procedures to correct the problems. In some cases, revision surgeries were not always successful, and plaintiffs are pursuing claims to seek compensation for their injuries and losses.
Attorney Group Can Help
If you or a loved one is a recipient of a metal-on-metal hip implant and you experienced complications that you feel were caused by the device, you may have legal recourse. Contact Attorney Group to learn more about your options and to receive a free, no-obligation consultation. We can help determine if you have a metal-on-metal hip lawsuit, and we can place you in touch with an affiliated attorney who can handle your metal-on-metal hip lawsuit and work to help you seek the compensation to which you or your loved one may be entitled.