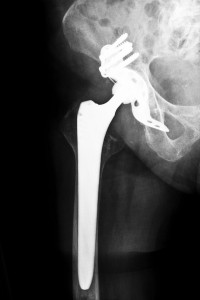 Zimmer Durom Cup hip replacement attorneys are currently working on behalf of individuals who report serious health complications with the Zimmer Durom Cup; the device ceased being implanted in 2008 due to potential problems that may cause the device to fail prematurely.
Additionally, physicians have reported a high number of problems with the hip replacement device, which has thus resulted in excruciating pain and additional revision surgeries. If you have been fitted with the hip implant and you believe that the device has failed, contact Zimmer Durom Cup hip recall attorneys who may assist you in filing a case. You may be eligible to receive compensation.
Zimmer Durom Cup Complications
The device is used in total hip replacement operations, where a surgeon removes a significant amount of bone from the patient's hip socket and the ball at the top of the femur, replacing both with an artificial system instead. The Zimmer Durom Cup is a metal-on-metal joint system that was originally constructed in an effort to increase the flexibility and lifespan of artificial hips. However, for those who received a Durom Cup, there have been more complications than benefits, leaving many to seek legal counsel from experienced Zimmer Durom Cup hip replacement attorneys.
Plaintiffs allege that they began to feel unexplained hip pain more than three months after they received the device; many individuals also claim that pain was noticed only a week or two after surgery. Additionally, patients report that they realized the hip implant had become loose. These cases often resulted in the need for hip replacement revision surgery to correct the problems.
Zimmer Durom Cup Hip Replacement Attorneys
The Zimmer Durom Cup made its debut in the United States in 2006, designed to use in conjunction with Zimmer's metal-on-metal diameter heads. What made the Zimmer Durom Cup so "special" was that it was a newer type of artificial hip implant made from a single piece of material.
Zimmer Durom Cup hip replacement attorneys want you to know the full story before you file a lawsuit, starting in April 2008 when a well-known and respected orthopedic surgeon in Los Angeles, California, notified the American Association of Hip and Knee Surgeons of the complications he was encountering. Former patients who had been implanted with the device had come to him complaining of a loose device and requesting revision surgeries at a rate higher than previously expected. The surgeon noted that the Durom Cup did not seal properly inside the patient's hip socket, so it often became detached from the patients within the first year or two following surgery. Once the device detached, the metal portion of the Durom Cup could move around, rubbing on the bone inside the hip socket and cause agonizing pain.
Additionally, since the device is a metal-on-metal implant system, patients were also at an increased risk for developing metallosis, or a metal toxicity. Researchers found that when the metal ball and the metal socket rubbed together, the friction over the course of time often produced metal ions which would eventually wind up in the patient's blood stream or around other nearby organs.
Zimmer originally dismissed the surgeon's claims, stating that the problem was due to improper training, not a faulty device. However, they agreed to start an investigation of the complications in May 2008. The manufacturer reviewed over 3,000 cases and concluded that both the design of the cup and the technology to properly place the implant required a much higher degree of precision that was normally found in the United States; they acknowledged that surgeons needed additional training and instruction before attempting to implant the device. The company maintained that the product itself met their standards for performance and that they did not see any evidence that the Durom Cup was poorly manufactured. Zimmer Durom Cup hip replacement attorneys take all of this into account when reviewing a case.
Zimmer decided to completely suspend sales of the device just two months later in July 2008. However, they did not issue an official recall because the manufacturer did not find any solid evidence that there was a defect in the manufacturing or design of the product. In fact, Zimmer had plans to reintroduce the implant after they gathered better instructions about the surgical techniques that surgeons must use to decrease the likelihood of the device failing. Zimmer has also implicated that they will begin a new training program for surgeons in the United States to prove to the medical community that it was lack of training and not a faulty system that led to these adverse complications.
Contact Our Office
Did you know that over 12,000 individuals received a Zimmer Durom Cup hip implant since its debut in 2006? Hundreds of these patients may be experiencing a loose device or the need for revision surgery. If you are suffering from a defective hip replacement implant, contact Zimmer Durom Cup hip replacement attorneys who can assist you further. Here at Attorney Group, we know that Pfizer introduced a new product without providing proper instructions or warnings; now is your time to fight back. Contact us today so that we can provide you with a free consultation of your case.