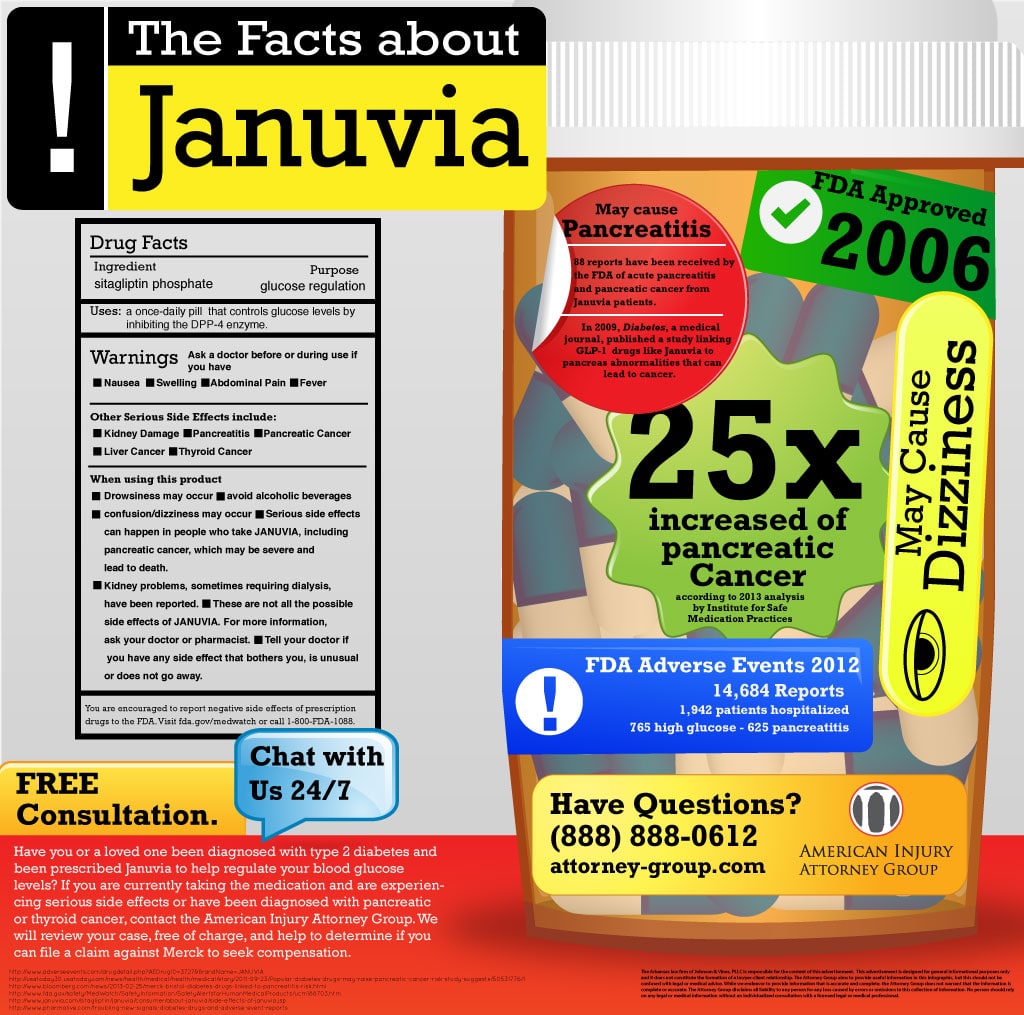 Share this Image On Your Site
Januvia, a once-daily pill that controls patients' glucose levels by inhibiting the DPP-4 enzyme, was initially approved by the U.S. Food and Drug Administration (FDA) in 2006 and has helped thousands of patients to better monitor their blood sugar. However, Diabetes, a medical journal, released a study in 2009 that linked Januvia and other GLP-1 drugs to abnormalities in the pancreas that can cause cancer. More recently, Januvia has also been linked to several other adverse and life-threatening complications, prompting victims throughout the U.S. to seek legal counsel from Januvia lawyers to file claims in an effort to seek compensation for their injuries.
If you or a loved one took Januvia to help regulate your blood glucose levels and you were diagnosed with type 2 diabetes, pancreatic cancer or thyroid cancer, a Januvia lawyer can review your case and help you to determine if you are eligible to recover damages for your suffering.
Many prescription medications may cause side effects that are not necessarily indicative of a severe problem. Several common side effects of Januvia include fever, nausea, swelling and abdominal pain. However, Januvia has also been linked to more severe and life-threatening complications such as thyroid cancer, kidney damage, liver cancer, pancreatic cancer and pancreatitis.
The FDA has advised patients that drowsiness, confusion and dizziness may also occur when using the medication, and patients should avoid alcoholic beverages. One of the most severe complications, pancreatitis, may be life-threatening if not quickly caught and treated. In fact, the FDA has acknowledged receipt of 88 separate reports from patients who had allegedly developed pancreatitis and pancreatic cancer while taking Januvia. Additionally, the FDA received a total of 14,684 reports as of 2012, 1,942 of which involved patients requiring hospitalization. Of these, 625 were diagnosed with pancreatitis and 765 suffered from elevated glucose levels.
According to an analysis conducted by the Institute for Safe Medication Practices in 2013, patients taking Januvia were 25 times more likely to develop pancreatic cancer than those who did not take Januvia or patients who opted for alternative medications. The FDA has since launched an investigation to determine whether Januvia and other incretin mimetics such as Janumet, Victoza and Byetta do, in fact, increase a patient's risk of developing diabetes, pancreatic cancer, thyroid cancer or kidney disease.
Contact a Januvia Lawyer at Attorney Group
If you or someone you love took Januvia or other incretin mimetic and you suffered from adverse complications or were diagnosed with pancreatitis or pancreatic cancer, consider seeking legal counsel from a Januvia lawyer to learn more about your rights. At Attorney Group, we can provide you with a free consultation and connect you with a Januvia lawyer who will handle your claim throughout the legal process.