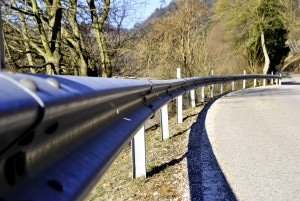 The U.S. Department of Transportation Federal Highway Administration has declared April 7th-11th National Work Zone Awareness Week in order to increase awareness on work zone safety, and to decrease the amount of accidents, injuries and deaths that occur in work zones.
A main focus of the U.S. Department of Transportation Federal Highway Administration (FHWA) is to ensure safer roadways. The FHWA works with local, state and federal partners in the transportation community to design and promote technologies and programs to improve the safety performance of the country's roadways in an effort to reduce the number of injuries and fatalities.
Motor vehicle crashes are the leading cause of death in the U.S. of individuals between the ages of one and 34. Contributing to the toll of fatalities are speed, alcohol and other various motorist behaviors as well as the types of vehicles people drive and the roads on which they travel. The U.S. Department of Transportation reports that the total cost of crashes exceeds $230 billion each year.
National Work Zone Awareness Week
Scheduled for April 7-11, 2014, the theme for the 2014 National Work Zone Awareness Week is "Work Zone Speed: A Costly Mistake." The Washington State Department of Transportation was selected as the 2014 host for this event, which will begin on April 8, 2014 in Seattle.
The National Work Zone Awareness Week is held each year in April to help bring national attention to worker and motorist mobility and safety issues in work zone. In addition to the national event, many states hold their own version of the National Work Zone Awareness Week.
The 2014 National Work Zone Awareness Week theme highlights the dangers and consequences of speeding through a construction or work zone, including jail time, fines or even death. By highlighting these impacts, the intent of the National Work Zone Awareness Week is to inform motorists and encourage them to travel carefully through work zones or other areas where workers may be.
How to Stay Safe
Roadways work zones are hazardous, both for the construction workers and the drivers traveling through the complex array of lane changes, barrels and signs. It is important for motorists to keep the following tips in mind when maneuvering through work zones:
Plan ahead. Leave several minutes early if you know ahead of time that you will be traveling through a work zone in order to reach your destination safely and on time. If necessary, take an alternate route to avoid delays.
Pay attention. Heavy equipment and workers may only be a few feet from passing cars. Do not attempt to eat, play with the radio, read a book or have intense discussions with other passengers as these factors may distract your attention from the road.
Be safe. Wear seatbelts and do not operate a motor vehicle under the influence of drugs or alcohol. Doing so will impair your judgment and increase the risk of injury or death.
Be patient. Although delays from construction accidents can be stressful and frustrating, it only takes a couple of minutes to slow down for a work zone.
Slow down and follow posted speed limits in the work zone. Traffic fines may be doubled in work zones, and speeding is one of the major causes of work zone accidents.
Additionally, there are several ways that workers can help to ensure the safety of both themselves and the motorists traveling through the work zones, such as:
High-visibility apparel. Wear bright, fluorescent colors such as yellow-green to differentiate yourself from the other vehicles, orange-colored drums and signs.
Speed control. Flaggers, radar-activated changeable message signs and regulatory speed limits should be clearly established and easily visible for motorists.
Activity area planning. Mark and identify routes to allow work vehicles and workers to safely exit and enter the work zone. If backing is necessary, use a spotter or other means if other workers and pedestrians are present.
Lighting. Temporary lighting should be used at night in work zones wherever workers are present to provide better visibility for drivers. Glare must be controlled so as not to interfere with visibility.
Positive separation of work activities and traffic. Separate work zones from traffic by using shadow vehicles with truck-mounted attenuators or temporary traffic barriers.
Special devices. Use traffic control devices such as spotters, intrusion alarms, changeable message signs and rumble strips to reduce dangers.
Both workers and motorists must take the appropriate means to ensure the safety of other drivers and individuals that may be in the work zone. Failing to do so may result in a crash, injury or death. That is why the DOT is taking proactive measures to protect and inform everyone involved.
Attorney Group is Here to Help
If you have been injured in a vehicular accident that was caused by the negligence of another or if you would like more information about your legal rights if you or someone you love is injured or killed in a work zone accident, contact Attorney Group today to learn about your legal rights. We can connect you with an affiliated attorney who can work to help you seek the compensation to which you may be entitled.