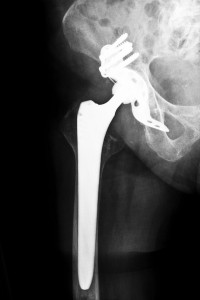 A Wright hip replacement lawsuit involving the manufacturer's Profemur device has reportedly been settled for an undisclosed amount. Entered by the court on November 7, 2013, five days before the start of the trial, the settlement was reached with Timothy R. Courson and his wife, Linda. The product liability lawsuit, filed in the U.S. District Court for the Middle District of Georgia in May 2012, alleged that the plaintiff received a Wright Profeumr Plasma Z hip stem that subsequently failed and required a second surgical procedure.
If you or a loved one were fitted with a Wright hip implant and you experienced adverse side effects or early device failure, you may be entitled to file a Wright hip replacement lawsuit and seek compensation for your injuries. Contact Attorney Group to learn more about your legal rights.
Wright Hip Replacement Lawsuit Settled
There are a number of lawsuits pending across the U.S. in which plaintiffs are making similar allegations of complications after the modular femoral stem broke following implantation. Unlike traditional replacement systems which feature a single femoral component, the Profemur stem has two modular pieces that allow the implant to be adjusted for leg length. Plaintiffs argue that this design is prone to corrode, move and break at the neck stem.
This is the second Wright hip replacement lawsuit settlement that has been reached shortly before a trial was scheduled to begin. In March 2013, a settlement was agreed upon in another Wright lawsuit, and the terms came just one day after the judge denied the defendant's motion to dismiss the claim.
According to the complaint, the Wright Profemur implant was defective, and the company failed to fix the problem. The plaintiffs allege that the manufacturer sent a representative to the plaintiff after the implant allegedly failed, and the representative provided an extraction device to help during the revision procedure. However, this device allegedly broke while it was in use and caused further injury; another procedure was required to remove the broken extraction device and the allegedly defective Wright Medical Profemur.
What is a Wright Hip Replacement?
Wright hip implants are metal-on-metal devices that consist of a stem and ball that rest inside a metal cup. The ball and cup implants are what surgeons insert into a patient in an effort to replace the patient's existing hip joint. Although the U.S. Food and Drug Administration (FDA) approved the Wright implant in 2003, the devices were approved through the agency's 510(k) process, allowing the implants to be placed on the market without extensive testing so long as they were proven to be similar as products already in use.
Although the Wright hip replacements are designed to last 10 years or more, many patients have reported early device failure and malfunctions within three years following surgery. Plaintiffs are claiming that they have suffered from adverse and life-threatening side effects, including:
Infection
Pseudotumors
Hip implant failure
Biologic toxicity
Court documents indicate that Wright Medical is facing nearly 80 lawsuits pertaining to its Conserve hip replacement devices, and these cases have been consolidated into a multidistrict litigation in process in the U.S. District Court, Northern District of Georgia. These cases allege that plaintiffs suffered injuries as a result of the metal-on-metal design of the Conserve Total A-Class Advanced Metal Hip Implant System, the Conserve Total Hip Implant System and the Conserve Resurfacing System.
Contact Attorney Group for More Information
If you or a loved one were fitted with a Wright implant or if you have questions about filing a Wright hip replacement lawsuit after you suffered from side effects or injuries, contact Attorney Group for your free, no-obligation case evaluation. We will help you to determine if you have a valid claim and will connect you with an affiliated Wright hip replacement lawsuit attorney who will handle your claim and help you to seek the compensation to which you may be entitled. The time to file may be limited, so act now.