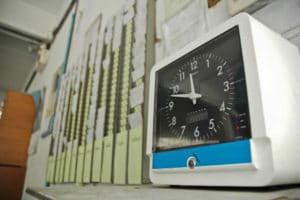 Unpaid overtime settlements may be sought by hourly and salaried employees, as well as certain contractors, who work over 40 hours a week. There are federal and state laws in place that are designed to protect employees from employers who may choose to withhold or reduce the required wages that have been rightfully earned by workers in a wide range of industries. These laws also protect underpaid workers from retaliation if they pursue a claim, and an unpaid overtime lawsuit may be an option for an employee to recover the compensation he or she deserves.
For more information, contact Attorney Group today. Our consultations are free, confidential and without any obligation on your part. We can help answer your questions, and if you choose to pursue a claim we can connect you with an affiliated unpaid overtime lawsuit attorney who can assist you throughout the legal process.
The time you have to pursue a claim is limited. Contact us for more information.

Get Help Now.
How Are Overtime Rates Determined?
As stated by the U.S. Department of Labor, while an employee's workweek can begin at any time and on any day of the week, it must be over a fixed, re-occurring period. Overtime pay for weekends and holidays is usually not paid, unless these days are considered part of a worker's regular schedule. Additionally, employers can maintain different schedules for different employees within a workplace.
Overtime rates must equal 1.5 times a worker's standard rate of pay. Additionally, all workers deemed eligible by the Fair Labor Standards Act (FLSA) must receive overtime. Overtime pay should be afforded on an employee's typical pay day, and the actual rate of pay is calculated based on an employee's workweek, which can vary.
Who Is Exempt?
Although many employees are covered by FLSA regulations, there are quite a few exceptions to overtime legislation. The DOL lists a few of these exemptions, including employees earning sales commissions. In this case, employees will not be eligible for overtime compensation if they earn in excess 1.5 times the hourly minimum wage and if their sales commission counts for more than 50 percent of their wage.
Other professions are also considered exempt from overtime compensation. Workers employed in a seasonal capacity (such as at amusement parks) are typically not eligible to receive overtime pay. Computer technicians are also exempt, as are executive and administrative professionals.
Can Salaried Workers Receive Overtime?
In many cases, salaried workers are not covered under FLSA overtime regulations. However, proposed changes to federal law may expand the number of salaried workers who are deemed eligible. U.S. News & World Report details the new legislation, which would effectively raise the exemption threshold from $23,660 to $50,440.
This change is intended to counteract the effects of inflation on the U.S. workforce since the previous threshold was established 12 years ago. While many labor representatives are enthusiastic about the proposed law, others fear that employers may simply lower employee wages or limit hours in an attempt to prevent overtime payouts from being mandatory.
Are Independent Contractors Also Eligible?
According to the California Department of Industrial Relations, independent contractors are not considered employees. As a result, they are not covered under pertinent wage and hour laws that govern things like the minimum wage or overtime pay. Additionally, they cannot appeal to state agencies for assistance with labor disputes.
However, some employers incorrectly designate actual employees as independent contractors to avoid paying out overtime benefits. If an employee designation is in dispute, a review would be necessary to establish the status of that worker. Reviews often look at the type of work being performed and whether the employer assumes a position of authority over the worker.
Why Some Are Seeking Unpaid Overtime Settlements
Failure to pay overtime wages as necessary has been an issue for workers in many different industries. In one case, employees of a customer support agency alleged their employer neglected to provide appropriate wages due to discrepancies in the company's timekeeping system. Workers claim that they were not compensated for the time their computers were idle while offering customer support, even though they were officially on the clock.
In another case, employees of a fast food chain filed suit due to insufficient overtime compensation.  This case also cited additional allegations, including denying employees their mandated breaks for meals and rests, as well as withholding remaining wages upon termination.
How an Unpaid Overtime Lawsuit Attorney Can Help
Federal law, and many state laws, require employers to pay employees for overtime at a rate of not less than 1.5 times their regular rate of pay. These same laws protect underpaid workers from retaliation if they pursue a claim, and an unpaid wages lawyer can help an employee recover the compensation he or she deserves.
The Time You Have to Pursue a Claim is Limited. Contact Us Today.
For more information, contact Attorney Group. You can fill out the form on this page or contact us by phone or email.
After you contact us, an attorney will follow up to answer questions that you might have. There is no cost or obligation to speak with us, and any information you provide will be kept confidential.
Please note that the law limits the time you have to pursue a claim or file a lawsuit for an injury. If you think you have a case, you should not delay taking action.
Related Posts