Hip replacements help people get around when their own hip joints are damaged beyond repair by trauma, age, or illness. A complete hip replacement consists of a ball and socket, which may be made of the same material or different ones. metal on metal hip replacements are one option where both the ball and socket are made of metal.
The Evidence for Increased Risk of Certain Cancers
Following a peer-reviewed study from Britain, there is some concern that these metal on metal hip replacements could increase the recipient's lifetime risk of certain cancers. The British Journal of Cancer published the study linking metal on metal hip replacements with increased risk in April of 2013. The results of the study imply a risk of approximately 5 percent associated with metal on metal hip replacements in Scotland done between 1990 and 2009.
The cancers that presented most commonly in metal on metal hip replacement patients were:
Basal cell carcinoma
Cutaneous melanoma
Prostate cancer
Although it denies that any increased risk of these cancers has been found, the British Medicines and Healthcare Products Regulatory Agency (MHRA) recommended that patients with metal on metal hip replacements get annual blood tests to see if they had changes associated with metal poisoning. Some of these changes are considered precancerous.
Other Problems with Metal on Metal Hip Replacements
There are other associated problems with Metal-on-metal devices as well.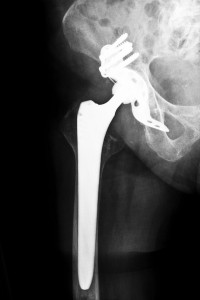 The British study believes that overall, they have an unacceptable revision rate with approximately half of them requiring replacement at six years. In contrast, only 12 to 15 percent of other types of hip replacements require revision at five years post-surgery. Lawsuits are being filed by patients who received defective or recalled hip replacements.
Medical costs for patients who receive faulty hip replacements can skyrocket if additional surgeries are needed. Patients may require more than one hospitalization, extra rehab time, additional prescription drugs and more time off work. Often, lawsuits are the only way for them to recoup the money they could not afford to spend on their new hips.
Another problem with metal on metal hip replacements is their tendency to release metal into the body. Because the ball and socket of the new hip joint rub against each other when the person moves, the friction releases small amounts of metal into the surrounding tissue. In some patients, this results in pain, swelling and even tumor growth associated with the body's reaction to this foreign substance.
The Recalls
So far, no recalls have been issued for metal on metal hip replacements based on increased cancer risk, although many metal on metal hips, such as those manufactured by Stryker and DePuy, have been recalled for other reasons. This type of hip replacement device is relatively commonly recalled because of early failure, and one recall was recently issued for inadequate surgical instructions accompanying the device. For patients who have experienced a recall, the potential secondary problems might be reason enough to consider revision surgery. Since MoM devices are effectively being phased out, most patients will end up using an alternative option.
No More Metal-on-Metal Hips
The FDA has stated that there are few reasons remaining to use metal on metal hip replacements when there are other choices available. Patients interested in MoM devices should determine with their doctor that in their personal situation, the rewards would outweigh the risks. MoM devices have not been withdrawn from the market, but fewer and fewer experts are recommending them. Patients are instead being advised to choose hip replacements made from other materials such as plastics and ceramic. If you have been the recipient of a recalled metal on metal hip replacement, or if you have questions of any kind, contact Attorney Group today.